Valentina Zucchi
Complutense University of Madrid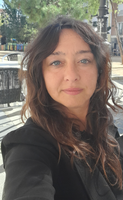 General data:
Nombre y Apellidos: Valentina Zucchi
Categoría: Profesor Ayudante Doctora
Área de conocimiento: Filología Italiana
Departamento: Estudios Románicos, Franceses, Italianos y Traducción
Facultad: Filología
Universidad: UCM
Correo vzucchi@ucm.es
https://dialnet.unirioja.es/servlet/articulo?codigo=6433087
Presentation:
A teacher, researcher and translator, she earned her doctorate at the Complutense University of Madrid where she works. She has translated into Spanish the epistolary novel Amo luego existo by the Italian writer Sibilla Aleramo, has published articles in prestigious magazines and chapters in well known volumes. She is dedicated to women's writing, especially autobiography, letters and diaries, in contemporary Italian literature.
---