Antonia Víñez Sánchez
University of Cadiz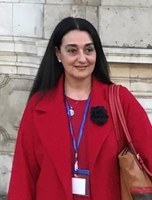 General data:
Nombre y Apellidos: ANTONIA VÍÑEZ SÁNCHEZ
Categoría: PROFESORA TITULAR DE UNIVERSIDAD
Área de conocimiento: FILOLOGÍA ROMÁNICA
Departamento: FILOLOGÍA
Facultad: FILOSOFÍA Y LETRAS
Universidad: CÁDIZ
Correo: antonia.vinguez@uca.es
ORCID: 0000-0002-5058-314X
Researcher ID: Y-7716-2019
Scopus ID:
Dialnet: 102632
Google Scholar: QcxZIEEAAAAJ
Presentation:
Full Professor at the University of Cadiz. Teaching periods: 6 (last in 2017); 3 sexenios of research (last in 2018). Collaboration in research projects of the DGICYT, Ministry of Education and Science, of the Generalitat de Catalunya and in the OLÍRICAS Project of the University of Salamanca (Ministry of Science and Innovation). Head of the research group LELIROM, HUM725 of the Junta de Andalucía, since 2001. Coordinator of the Romance Philology Area of the University of Cadiz (01/09/2007-present). Vice-Dean of the Faculty of Philosophy and Letters (12/06/2009-07/05/21013). Director of TFG and TFM (2013-present). Head of Teaching Innovation and Improvement Projects (from 2013-2021). Direction of a Doctoral Thesis (2010).
---