Galeazzo Flavio Capra
Milano, 1487-1537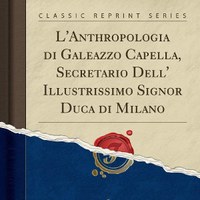 Galeazzo Flavio Capra (Milan, 1487-1537), even noted as Cappella, in the Latinized form of the cognome, was a humanist and diplomatic raffinato, an important figure in the Lombard culture and politics, a secretarial of Francesco Sforza and both of the Duca in Venice.
Capra inaugurated the trattatistica cinquecentesca in difesa delle donne with the brief treatise Della eccellenza e dignità delle donne, published in Rome from Calvo in 1525 and the successive anniversary in Venice, presso Gregorio de Gregori. L'opera venne in succession ripresa with alcune modified in the central book dell'Anthropologia, immaginary dialogue, "ragionamento sulla natura humano", published in Venezia dall'editore Manuzio nel 1533, che gli valse il parere enthusiast dell'amico umanista Benedetto Giovio.
In 1530 he published in Milan and Commentarii, in Latin, the conquest of Milan gives part of the truppe imperiali, tradotte in varie lingue, and più volte ristampati, opera that conferred on Capra the European intellectuale profile.
---