Mario Equicola
Alvito, Frosinone, aprox. 1470- Mantua, 1525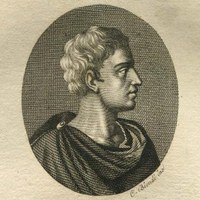 Little is known of the true origins of this author. According to Santoro, his main biographer, he was the illegitimate son of Giampaolo Cantelmo, which would explain the close ties that bound him to this family throughout his life.
At an early age he moved to Naples to undertake law studies that he never completed. Thanks to the Partenopean experience, he came into contact with the Accademia Pontaniana, to which he owes the name with which he has passed into posterity, taken in honor of the equicolas, ancient inhabitants of his native area.
After the Neapolitan period, the author had to spend some time in Rome and Florence, where he would deepen his training. It is known, however, that, in 1494, during the offensive of Charles VIII of Anjou to recover the kingdom of Naples, Equicola was in the service of the Cantelmo and that, after the death of Fernando Cantelmo (which occurred in the battle of Diano, in December 1497), took refuge in Ferrara.
His first works, the De religione libellus and the Oratio dicta Papiae, date back to the Ferrarian period, the latter from 1498. In 1499, in Milan, he pronounced a prayer De passione domini before Cardinal Ippolito of Este, which was published that same year.
The last work of this early period - on which our study focuses precisely - is a short pamphlet with the title De mulieribus (1501). The thesis that Equicola defends in this work, of which we have only found one copy in the Vatican Library, is that women are, by their very nature, equal to men, so that any type of inequality or marginalization is execrable .
---