Vincenzo Maggi
Pompiano (Brescia), 1498-Ferrara, 1564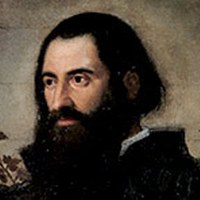 Philosopher and humanist, he was born around 1498 in the Brescia province of a noble and prestigious family. Initiated to study by his father, he completed his training in Padua where he taught philosophy until 1543. Member from 1540 of the Accademia degli Infiammati, then prince, in 1554, of the Accademia dei Filareti in Ferrara, where he had moved, and where he remained until 1557, he actively frequented the cultural circles of the cities where he lived, coming into contact with the main intellectuals of the time, including Pietro Bembo, Sperone Speroni, and the Veronese Bartolomeo Lombardi, with whom he will prepare a commentary on Aristotle's Poetics.
From 1545 is the oration Mulierum praeconium or De mulierum praestantia, dedicated to Anna d'Este, daughter of Ercole and Renata di Francia, translated (not by Maggi) into the vernacular with the title A short treatise on the excellence of women (Brescia , Damiano de 'Turlini, 1545), which also includes an anonymous Essortatione a gli men so that they may not allow themselves to be overtaken by women, attributed to Ortensio Lando.
After an interlude in Brescia, during which his role in the establishment of the Rezzato Academy, promoted by Giacomo Chizzola and some nobles, was fundamental, Maggi returned to Ferrara where he died in 1564.
---