Giovanni Michele Bruto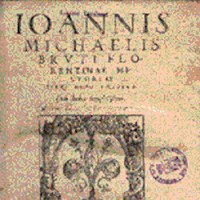 Writer, historiographic and religious (Venice, 1517 - Alba Iulia, May 16, 1592), he belonged to an old Venetian family. Around 1540 he went to Padua, where he studied rhetoric with L. Buonamici. After some travels and living with the Benedictines of Maguzzano, he was forced to flee Venice in 155 accused of heresy. He traveled to Spain, although his stay was disturbed by a serious illness and by the arrogant atmosphere of the court.
He continued with tours of France, Germany and Spain again. He returned to Venice and visited Florence in search of material for his works. However, in 1562 to 1562 we find him in Lyon, where he published the eight books of histories, as well as the narrative of the war, sustained by Siena against Florence in 1454, by Francesco Contarini. in 1574 he settled in Transylvania at the invitation of Prince Esteban Báthory, accepting the task of writing a history of Hungary destined to demonstrate the groundlessness of the claims of the Habsburgs on that kingdom. After electing Bathory as King of Poland in 1576, he immediately followed him to Krakow.
On Bathory's death (December 1586), Brutus became a prominent man of Asburg and moved to Vienna and then to Prague. In 1591 he was notified of Sigismund Bathory's intention to publish his history of Hungary. He then decided to leave for Alba Iulia, but he probably died while on his way.
---