Giovanni Sabadino degli Arienti
Bolonia, 1445- Bolonia 1510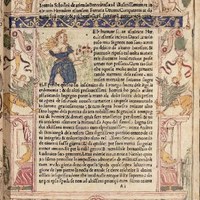 Born into a family in favor of the Bentivoglio, Giovanni Sabadino degli Arienti studied notary public in Bologna and became a member of the notaries' guild in 1471. However, there is no evidence that he was actively involved in this profession. , since that same year he entered the service of Count Andrea Bentivoglio as his personal secretary.
His court life will be linked to Count Andrea, to the point that his death in 1491 symbolizes the decline of Sabadino's presence in Bolognese public and cultural life. During the last decade of the 15th century and the first years of the 16th, the author sought protection and patronage in the courts of Ferrara and Mantua, dedicating different works to their main exponents.
Between 1489 and 1490, Giovanni Sabadino degli Arienti composed the Gynevera de le clare donne, a collection of exemplary female biographies dedicated to Ginevra Sforza Bentivoglio. This work, whose scheme refers to the De mulieribus claris, differs from the Boccaccesco archetype because Sabadino gives preference among his characters to Bolognese women from not excessively remote times, among whom he does not hesitate to include exponents of his own family.
---